The prospect of the Federal Reserve tightening its policy more aggressively in the face of rising price pressures, and hence slowing economic growth, has seen large money outflows from global bond funds according to Refinitiv Lipper.
In the week to April 13 global investors dumped bond funds with a value of US$14.5 billion compared to US$1.15 billion in the prior week as reported by Reuters.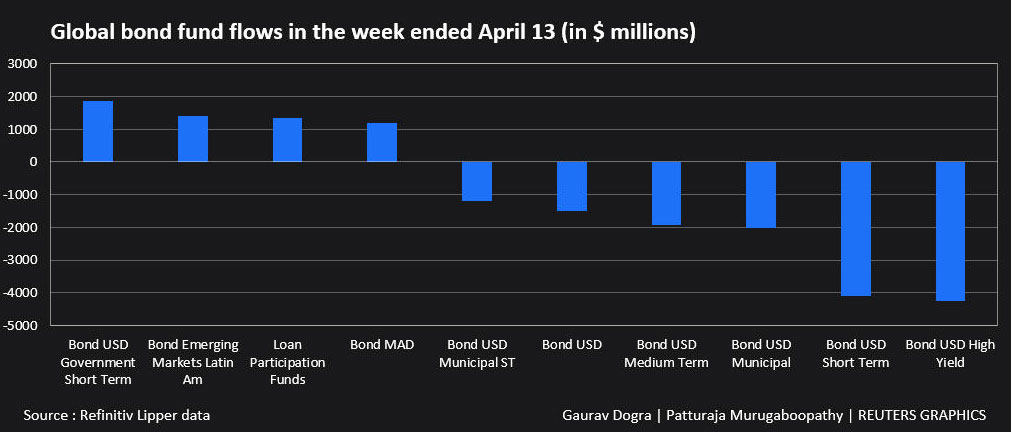 Reuters reported that the benchmark 10-year U.S. Treasury yield hit a three-year high last week in the wake of hawkish comments from Fed officials.
Also read: Receding Tide Reveals The Best Opportunities For Active Managers
They cite data released last week showing that U.S. consumer prices increased by the most in 16.5 years in March but underlying pressures moderated as goods prices, excluding food and energy, dropped by the most in two years.
U.S. bond funds witnessed massive outflows of $12.57 billion. Investors also sold European and Asian funds of $2.99 billion and $0.42 billion, respectively. Investors offloaded global short- and medium-term bond funds of $6.55 billion, and exited high-yield bond funds worth $6.21 billion, marking the biggest outflow in two months.
Refinitiv Lipper also found that inflation-protected funds gained $659 million in a seventh straight week of net buying.