Each month Fixed Income News Australia provides a wrap of all the latest bond issues and changes from around Australia.
Economic data
No RBA meeting in January, the cash rate remains at 0.75%
Devastating bushfires across five states, the Insurance Council of Australia says $800m in claims since September and the Commonwealth Government commits $2 billion to help affected people and properties.
The US bombs and kills Iranian Colonel.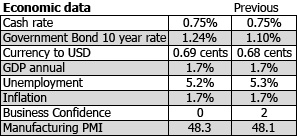 Australian Financial Institutions
Suncorp
Suncorp Group closed an additional tier-one (AT1) capital deal, Capital Notes 3, issuing $389 million at 3month BBSW +300bps. 
Companies
Seek
Issued a $150 million unrated, subordinated floating rate note at 3 month BBSW + 370 basis points.  The FRN was structured with final maturity in 6.5 years at 20 June 2026 with a call date after 3.5 years at 20 June 2023 – deemed '6.5NC3.5'.
Source: KangaNews